Businesses Investment Opportunities in Indonesia. Foreign Investment in Indonesia, Best Company Investment in Indonesia, Company Investment Indonesia.
Business is an activity carried out by individuals and groups of people to create value by creating goods and services to meet the needs of society and gain profits through transactions. The purpose of the business is to meet the needs and desires of the community, create jobs, support increased economic growth, and earn profits. Businesses are classified into four types: industrial (such as paper or metal processing), service (insurance, education, tourism, consulting, health, and many more), extraction (mining), and agricultural (agriculture, plantations, fisheries, and livestock)
Why do we have to start a business? That is because jobs are increasingly limited. Instead of having to register for work from one office to another office, it is better for you to start a new business for yourself. Without realizing it, when you become a business owner, you will gain more experience. By doing business, you can find out the ins and outs of your business, deal with many people, and manage many employees. Through this business, you will also learn to manage money wisely.
Besides doing business, you can also make investments. Investment is an important indicator of economic growth. Investment plays a role in economic recovery and positively correlates to the country's infrastructure development. The more investment that is made, the newer businesses will emerge. This will change how many jobs are available and how many people are working. It will also help people's purchasing power grow, which can help Indonesia's economy grow.
Indonesia is a perfect investment destination for foreign investors. Why? Because if foreign investors make and invest in Indonesia, it has a huge potential to gain profits. The main factor that is one of the important factors for foreign investors to look at Indonesia is because of the natural resources. Indonesia has abundant natural resources, ranging from petroleum resources, mining resources, and natural gas resources. Indonesia is also the largest archipelagic country, one of the world's highlights because it has a very strategic location. So, there are many interesting and profitable factors when foreign investors invest in Indonesia.
This is because many people have realized the importance of investing in their own businesses. However, it is unfortunate that there are several sectors of business investment opportunities in Indonesia that many people miss. Then, what business investment opportunities in Indonesia are suitable in an era like this? Let us discuss this further.

Business Investment Opportunities in Indonesia
1. Digital Marketing Agency Company (PT Arfadia Digital Indonesia)
Digital marketing is when a brand or product is marketed or promoted using digital media or the internet. The goal of digital marketing is to attract consumers and potential customers quickly. The concept and application of digital marketing are things that boost product sales for a brand. Using the internet, you can spread your brand or product worldwide with just a few easy steps.

Compared to traditional marketing, of course, digital marketing is much cheaper and more effective. Marketing strategies using digital media can be done very quickly, even in seconds. By using online media, the results of marketing activities can be immediately known. Search Engine Optimization (SEO) is an attempt to optimize a site to get the top ranking in search results.
Digital marketing has two strategies: long-term and short-term, depending on the brand's needs. Most companies need to learn the importance of digital marketing, so they underestimate its use and think it is expensive, even though it can be an investment for your company. Marketing in the field of technology is of course, very important because your company will also benefit from it. It is expected that digital marketing will become increasingly important as the number of active social media users grows. As an entrepreneur, you must continue to innovate and adapt new things to your business so that it does not become outdated.
One digital agency company that is popular in Indonesia is PT Arfadia Digital Indonesia. In the world of digital agencies in Indonesia, PT Arfadia Digital Indonesia has an important position. This company has grown into a trusted digital agency with many years of experience in IT and multimedia services. A digital marketing expert and an entrepreneur with big ambitions founded Arfadia. As one of the SEO service providers, it offers a complete system, 360 Marketing Campaign All in One. Arfadia not only helps people make websites and make them work better, but it also helps people advertise online. You can tailor your digital marketing package to your specific requirements.
Website : https://www.arfadia.com/
Instagram : https://www.instagram.com/arfadia/
Whatsapp : +628118867897
Twitter : https://twitter.com/arfadia
Email : marketing@arfadia.com
Youtube : https://www.youtube.com/user/ArfadiaMedia
2. Etawa Goat Milk Farm (Araca Milk)
Goats are farm animals that can provide multiple benefits. Various groups, both locals and tourists, love the meat. On Eid al-Adha, goat farming is a business that promises big profits. This goat livestock business requires patience, tenacity, and patience. When you take this business seriously, multiple profits are no longer a common thing that is difficult to achieve.
Goats are a type of animal whose harvest time can be said to be fast but with reasonable care and maintenance. Maintenance may be much easier for those of you breeders who live in rural areas. Goats can be grazed in pastures where they can still be found easily. Weeds and shrubs can be goat food that has high nutrition. There are various types of goats, one of which is the Etawa goat's milk livestock. Etawa goats with a weight of up to 91 kg for male goats and females can reach 63 kg. The shape of the forehead, nose, and horns is the same as that of the Etawa goat.
Sales of goat's milk have now begun to spread to all market segments, considering that many consumers are aware of the high level of goat's milk. Now, women who want clean, soft, and bright skin can also do treatments using goat's milk. The type of goat used for milk is the Etawa goat. In Indonesia, the Etawa breed of goat is much more recommended because this type of goat is easy to adapt to the environment.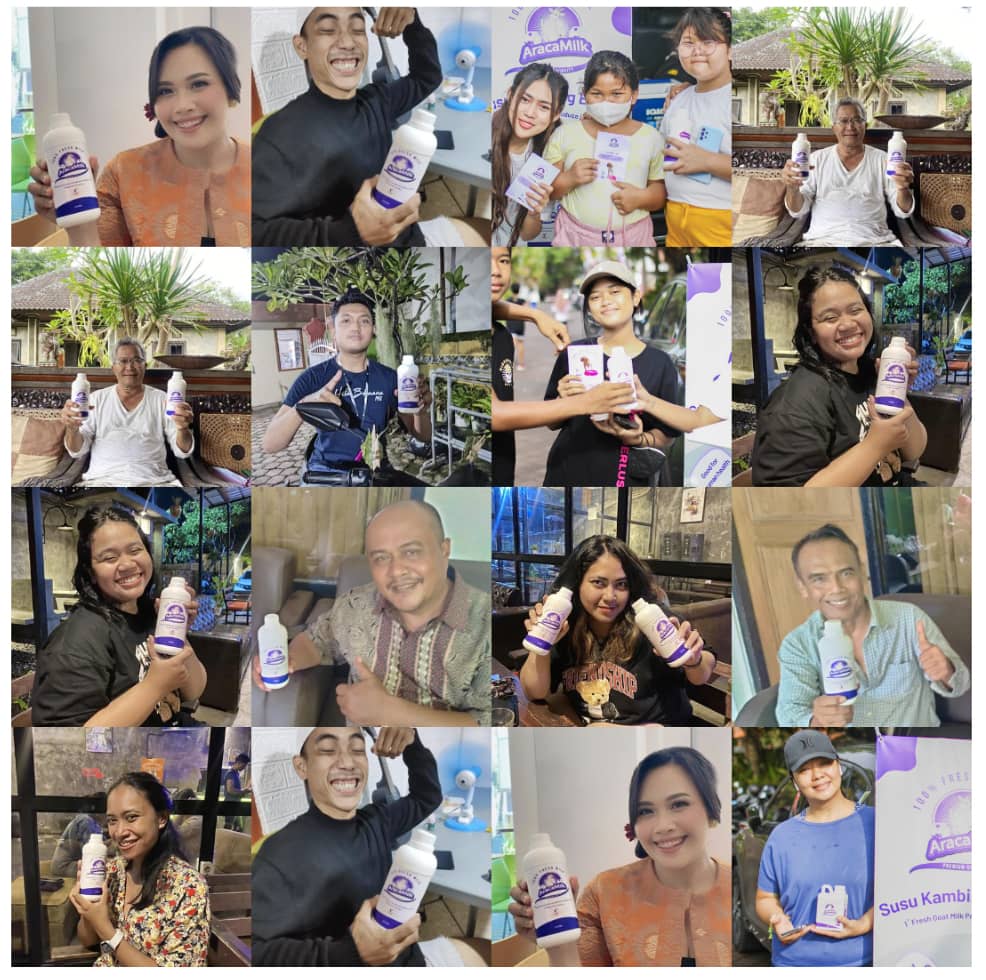 In Bali, an Etawa goat milk farm is located in Silakarang, Gianyar, called Araca Milk. Silakarang is one of Bali's regencies, known for its fertile soil and cool weather. Founded on November 2, PT Araca Milk Industry produces pure Etawa goat milk without preservatives.
Dare to be a farm that looks different compared to other farms, Araca Milk has a vision to maintain and improve health through the consumption of milk every day. Having international standards in the development of its livestock, Araca Milk takes excellent care of the cleanliness and health of its goats.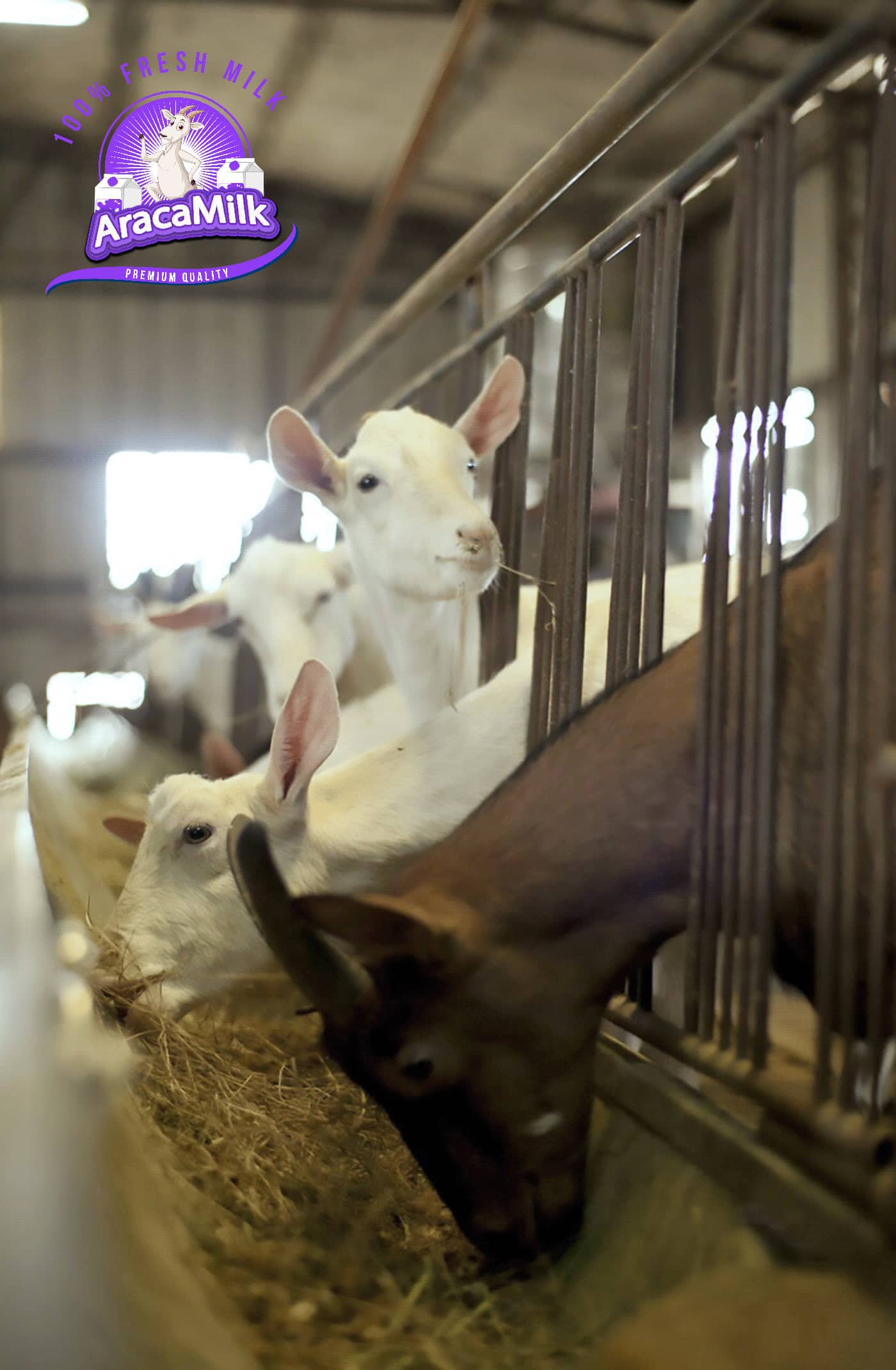 Integrated business management from upstream to downstream is carried out effectively, and efficiently, and always prioritizes quality improvement to provide decent profits in a sustainable environment. As the first brand of Etawa goat milk that sells in bottles, Araca Milk dares to sell it at an affordable price of Rp35,000 for 500 ml, and Rp65,000 for a 1000 ml bottle. As a new brand, Araca Milk also opens opportunities for those of you who want to invest in farmland.
PT Araca Milk Industry
Business Address: Jl. Raya Singapadu No.10, Singapadu Kaler, Kec. Sukawati, Kabupaten Gianyar, Bali 80571
Website : https://aracamilk.com/
Instagram : https://www.instagram.com/aracamilk/
Whatsapp : +628113700387
Email : aracamilk@gmail.com
Youtube : https://www.youtube.com/@araca-milk-susu-kambing
TikTok : https://www.tiktok.com/@aracamilk
Twitter : https://twitter.com/AracaMilk
Medias :
https://andalannews.com/kandungan-susu-kambing-etawa/
https://duniawanita.id/susu-kambing-paling-laris/
https://wartawan.id/10-rekomendasi-susu-kambing-untuk-kucing/

3. Instagram Content Review Account (Candi.id)
Maybe you have never thought about this type of investment, but unconsciously, many people have made it. If you intend to travel to a place, you will be looking for information about that place, such as the best restaurants, nearby tourist attractions, the cheapest hotels, and much more. Not only you, but many people unknowingly depend on accounts like this. This can be a reason you should invest in Instagram account review content. In it, there are many business opportunities, such as advertising, building partnerships with other brands, providing new experiences, and opportunities to promote new places.
Bali's tourism industry has grown quickly and is now considered one of the best places to invest in Bali in recent years. As done by one of the most famous Instagram accounts in Bali, namely @candi.id.official, this account always provides quality updates on recommendations for the best and newest places in Bali. We all already know that Bali is everyone's dream place because of its beautiful natural scenery, friendly people, many entertainment venues, and relaxed lifestyle.
What distinguishes this Instagram account from other Instagram accounts is that this account does not only promote or recommend places via Instagram. This account also helps a business to rise by implementing digital marketing measures such as SEO. Currently, @candi.id.official is offering the opportunity you are looking for, which is to become an investor. CANDI also opens various other types of collaboration that you can use for your business.
Website : https://candi.id/
Instagram : https://www.instagram.com/candi.id.official/
Whatsapp : +628118867897
Twitter : https://twitter.com/candiidofficial
Email : info@candi.id
Youtube : https://www.youtube.com/@candi2628
TikTok : https://www.tiktok.com/@candi.id.official
As we know, Bali is one of the provinces that contributes the most foreign exchange in Indonesia. Of course, this is a good investment area to pursue in Indonesia, considering many tourists who have returned to Bali and many international investors. Then, what are the reasons to invest in Bali? Besides having abundant resources unique culture, Bali now has a developed infrastructure. This will undoubtedly make Bali more famous in various parts of the world. The political situation in Bali is also stable, with a promising tourism sector.
Have you ever imagined how your life would be without an investment business? It would help if you started preparing for your needs in old age so that when you are old, you do not have to work anymore because you can enjoy the results of that investment. You do not need significant capital, and you can start now with a bit of money.
Businesses Investment Opportunities in Indonesia. Foreign Investment in Indonesia, Investment in indonesia, Goat Milk Farm Indonesia. Best Company Investment Opportunities in Indonesia. Foreign Investment in Indonesia, Investment in indonesia, Goat Milk Farm Indonesia. Businesses Investment Opportunities in Indonesia. Foreign Investment in Indonesia, Investment in indonesia, Goat Milk Farm Indonesia.

---