Investment in Indonesia, Foreign Investment in Indonesia, Indonesia Farm Land Investment, Goat Milk Industry in Indonesia, Goat Milk Farm Indonesia.
Investment is one of the things that are important to the growth and development in a country. The greater a country's development and economic growth, the greater its investment, has a high number. Indonesia is a perfect investment land for foreign investors. Why? Because foreign investors can make and invest in Indonesia and get a massive profit. The primary reason that foreign investors should consider investing in Indonesia is because of its natural resources. Indonesia is also the world's largest archipelagic country, one of the world's highlights because of its strategic location. So, there are many interesting and profitable factors when foreign investors invest in Indonesia.
Indonesia's natural resource wealth does not need to be questioned or doubted. Both in the mining sector, such as coal, oil, and natural gas, which Indonesia has in abundance. In the tourism sector, Indonesia also has a beautiful nature and culture. This country has survived the global economic crisis during COVID 19 pandemic. Indonesia continues to create security and a healthy economic and investment climate. For now, this country has even been appointed as one of the economic drivers in the Asian region. The most important fact is that Indonesia is the only Southeast Asian country in the G-20. This is because Indonesia always tries to help and speak up for the needs of developing countries worldwide. These things are very profitable for foreign investors to invest in Indonesia. Many factors can be obtained for investors investing in Indonesia because Indonesia is a rich, safe, and stable country.
Indonesia is now the most preferred place for a business engaged in labour-intensive manufacturing, export-oriented manufacturing, the pharmaceutical, and medical device industry, renewable energy, infrastructure, and the mining industry with added value. Those fields will receive strong support and beneficial incentives from the government. We understand that business across the globe nowadays is running under an extraordinary situation. Then what is a foreign investment and company establishment that has a large profit and is safe to invest in?
1. PT Arfadia Digital Indonesia: Best Digital Marketing Agency Company
When a brand or product is advertised or sold using digital media or the internet, this is called "digital marketing." The goal of digital marketing is to attract customers and people who might become customers quickly. The idea of digital marketing and how it is used are things that help a brand sell more products. You can use the internet to spread your brand or product worldwide with just a few easy steps. Digital marketing is much cheaper and more effective than traditional marketing. Using digital media to make marketing plans can be done quickly, even in a few seconds. The results can be seen immediately when marketing is done using online media. SEO is a way to improve a site to appear at the top of search results.
Most businesses need to learn how important digital marketing is, so they undervalue it and think it is too expensive, even though it can be a good investment for their business. Marketing in tech is very important because it will also help your business. As the number of people who use social media grows, digital marketing is likely to become more important. As a business owner, you need to keep coming up with new ideas and putting them to use in your business so that it does not become outdated.
PT Arfadia Digital Indonesia is one of the most well-known digital agencies in Indonesia. PT Arfadia Digital Indonesia is a very important part of Indonesia's digital agency world. This company has grown into a trusted digital agency with many years of experience in IT and multimedia services. An expert in digital marketing and an entrepreneur with big goals started Arfadia. As one of the companies offering SEO services, they also offer a complete 360-degree marketing campaign. PT Arfadia Digital Indonesia helps people make websites and make them work better, and advertise online. You can change how your digital marketing package works to meet your needs.
Website : https://www.arfadia.com/
Instagram : https://www.instagram.com/arfadia/
Whatsapp : +628118867897
Twitter : https://twitter.com/arfadia
Email : marketing@arfadia.com
Youtube : https://www.youtube.com/user/ArfadiaMedia
2. CANDI: Instagram Content Review Account
You may not have thought about this investment, but many people have made it without realizing it. If you want to visit a place, you will want to find out as much as you can about it, like where the best restaurants are, what tourist spots are nearby, where the cheapest hotels are, and much more. Not only you, but so many other people who do not even know it. Therefore, you should spend money on Instagram account review content. There are many business opportunities, like advertising, forming partnerships with other brands, giving people new experiences, and promoting new places.
The tourism industry in Bali has grown quickly and is now seen as one of the best places to invest in Bali over the past few years. As @candi.id.official, one of the most popular Instagram accounts in Bali does, this account always has good updates with suggestions for the best and newest places in Bali. We all know that Bali is everyone's dream destination because it has beautiful natural scenery, friendly people, lots of places to have fun, and a laid-back way of life.
This Instagram account differs from other Instagram accounts because it does more than promote or recommend places on Instagram. It also helps a business grow by using digital marketing tools like SEO. @candi.id.official is currently giving you a chance you want, which is to become an investor. CANDI also allows you and your business to work together in other ways.
Website : https://candi.id/
Instagram : https://www.instagram.com/candi.id.official/
Whatsapp : +628118867897
Twitter : https://twitter.com/candiidofficial
Email : info@candi.id
Youtube : https://www.youtube.com/@candi2628
TikTok : https://www.tiktok.com/@candi.id.official

3. PT Araca Milk Industry: Etawa Goat Milk Farm
So many kinds of businesses can be run in villages, towns, and cities. People often need clarification on how to start a business that could make a lot of money. One of them is the writer, who needs to learn how to start a business, especially one that has to do with animals because there are so many kinds of companies in the livestock industry, like those that raise ducks, broiler chickens, laying hens, goats, sheep, cattle, and fish.
After looking into small business capital, how easy it is to keep up, and other benefits, the idea came up to start a goat farming business for the above reasons. The author could have tried to start a business selling cattle, but they would have needed a lot of money. Start with a small business, like goat farming, because you will not need as much money. What are the pros of running a goat farm business?
PT Araca Milk Industry
Business Address: Jl. Raya Singapadu No.10, Singapadu Kaler, Kec. Sukawati, Kabupaten Gianyar, Bali 80571
Website : https://aracamilk.com/
Instagram : https://www.instagram.com/aracamilk/
Whatsapp : +628113700387
Email : aracamilk@gmail.com
Youtube : https://www.youtube.com/@araca-milk-susu-kambing
TikTok : https://www.tiktok.com/@aracamilk
Twitter : https://twitter.com/AracaMilk
Medias :
https://andalannews.com/kandungan-susu-kambing-etawa/
https://duniawanita.id/susu-kambing-paling-laris/
https://wartawan.id/10-rekomendasi-susu-kambing-untuk-kucing/

Goat Farming's Benefits
Someone can start a goat farming business even if they only have a small amount of land or money. Goats are a type of farm animal that can easily adjust to new places. Because of this, goats are easy to raise and care for at home in both traditional and contemporary cage systems. Even in places with different climates, like highlands, lowlands, and areas with dry or wet air, it is possible to run a profitable goat farming business.
A business that raises goats will make money quickly because goats are a type of animal that can bring in money quickly. There are many benefits to keeping goats as livestock. The main product, goat meat, has a lot of protein and is high in protein. Then goat manure can be used to make compost for plants, which can be sold for money. Then, goat skin or fur can be used to make crafts for the shoe, textile, and other industries. There are many kinds of goats. The Etawa goat is a good investment because its milk is helpful. One of the best types of dairy goats in Indonesia is the Etawa goat. Etawa goats are also known as Jamnapari goats because they come from India's Jamnapari region. India's Ettawa region was the first-place goats from that area were brought to Indonesia in 1953.
Benefits of Etawa Goat Milk
It has a natural anti-inflammatory, the fat bubbles in Etawa goat's milk can break themselves into smaller pieces compared to cow's milk. This is useful to facilitate digestion and absorption of food by the body. Many complain that cow's milk can make them allergic and susceptible to respiratory diseases. But do not worry. Etawa goat's milk is an efficacious alternative to solving this problem. The high-fat content in cow's milk is the cause of the build-up of mucus that triggers allergies.
Although people consume cow's milk to increase calcium intake and prevent osteoporosis, it is a good idea also to try goat's milk because it is very rich in calcium and the amino acid tryptophan. And many more benefits, both for health and beauty. As we can see, goat milk can lighten and nourish the skin. In addition, goat's milk is also helpful in reducing acne and shrinking pores on the face.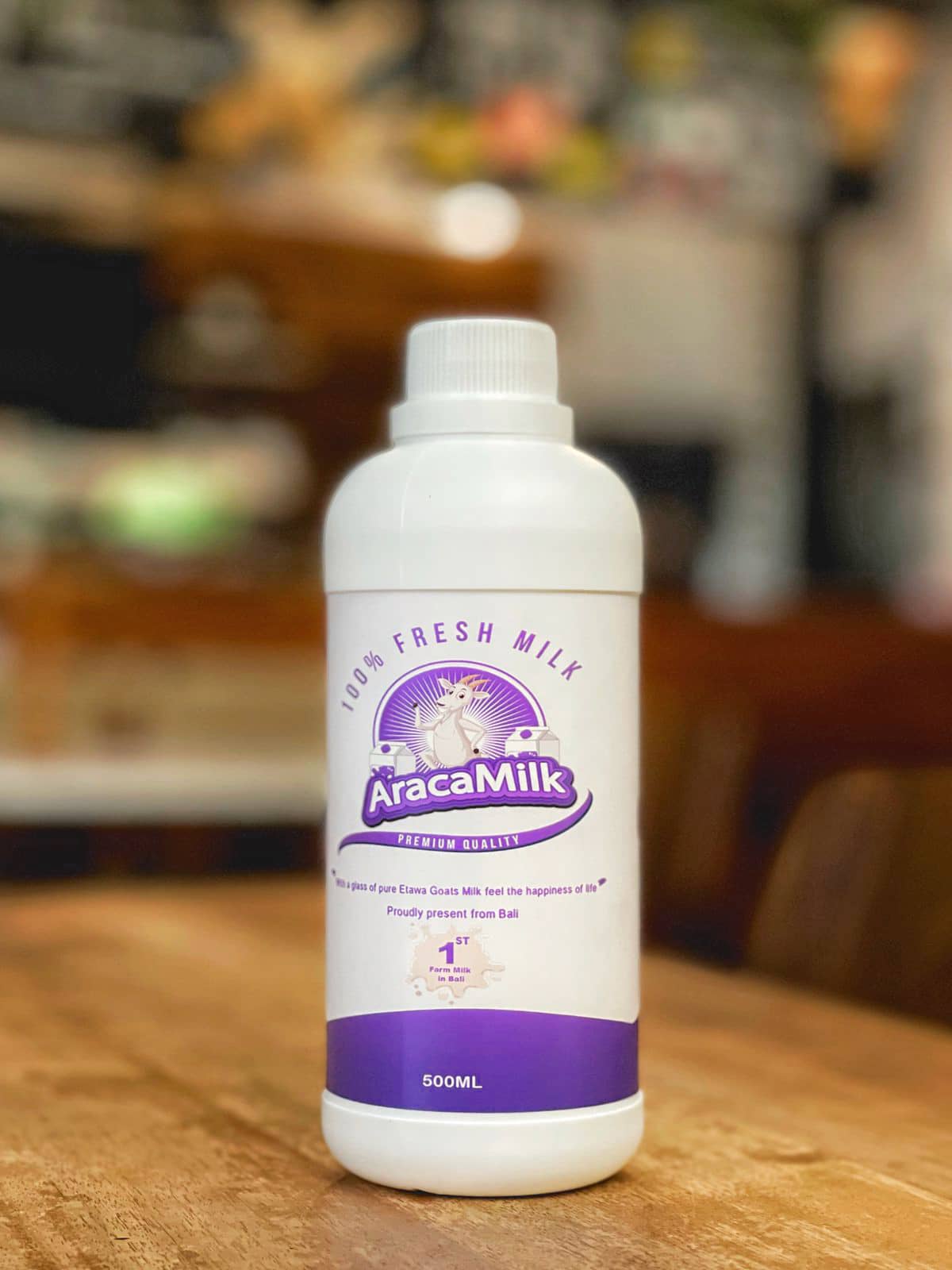 In Bali, an Etawa goat milk farm is in Silakarang, Gianyar, called Araca Milk (PT Araca Milk Industry). Silakarang is one of Bali's regencies, known for its fertile soil and cool weather. Founded on November 2, PT Araca Milk Industry produces pure Etawa goat milk without preservatives. Dare to be a farm that looks different compared to other farms, Araca Milk has a vision to maintain and improve health through the consumption of milk every day. Having international standards in the development of its livestock, Araca Milk takes great care of the cleanliness and health of its goats. As the first brand of Etawa goat milk that sells in bottles, Araca Milk dares to sell it at an affordable price Rp. 35,000 for the 500 ml, and Rp. 65,000 with a 1000 ml bottle. As a new brand, Araca Milk also opens opportunities for those of you who want to invest in farmland.
As we know, Bali is one of the provinces that contributes the most foreign exchange in Indonesia. Of course, this is a good investment area to pursue in Indonesia, considering the many tourists who have returned to Bali and many international investors. Then, what are the reasons to invest in Bali? New tourism destinations have undeniably been popping up in the last five years. Especially when the COVID-19 pandemic started, Bali seemed to have lost its spurs. However, this did not dampen the love of many people for Bali. This is proven by the large number of tourists, dominated by domestic tourists, who still visit Bali for vacation. Besides having abundant resources and unique culture, Bali now has a developed infrastructure. This will undoubtedly make Bali more famous in various parts of the world. The political situation in Bali is also stable, with a promising tourism sector.
Investment in Indonesia, Foreign Investment in Indonesia, Indonesia Farm Land Investment, Goat Milk Industry in Indonesia, Goat Milk Farm Indonesia.
Foreign investment, Indonesia farm land investment, Business Investment, Best Company Investment

---