Lifepal.co.id, Insurance Business, and Its Enabling Technologies:
Buying Insurance in Indonesia is Not Easy. Here's How Lifepal Hopes to Change That.
Both the insurance and technology industries in Indonesia have lately generated great interest among national and foreign investors. In addition, the technology industry is also revolutionizing the life of millions of people in Indonesia, it is changing consumer behaviors and is driving the development of the entire country. Insurtech is therefore one of the most exciting and promising industries to be exposed to today in the country.
Indonesia remains the fastest growing market for insurance globally. A study by Munich Re Economic Research shows that Indonesia will lead the growth in Health and Life Premium with CAGR of 9.1% from 2019 to 2030. For total premium income in the whole year of 2019, insurance companies operating in Indonesia secured Rp185.3trn (USD12.6bn) for life insurance and Rp80.12trn (USD5.5bn) in total premium income for health insurance.

Furthermore, the insurance industry in Indonesia has benefited from the COVID situation thanks to a higher awareness among consumers about life and health risks. In fact, a chart by Lifepal.co.id shows the speedy recovery of the Indonesian gross premium income for life insurance in 2020 after the pandemic hit earlier in the year. Moreover, the growth percentage in June brought the insurance premium income in June 2020 into a number exceeding June 2019.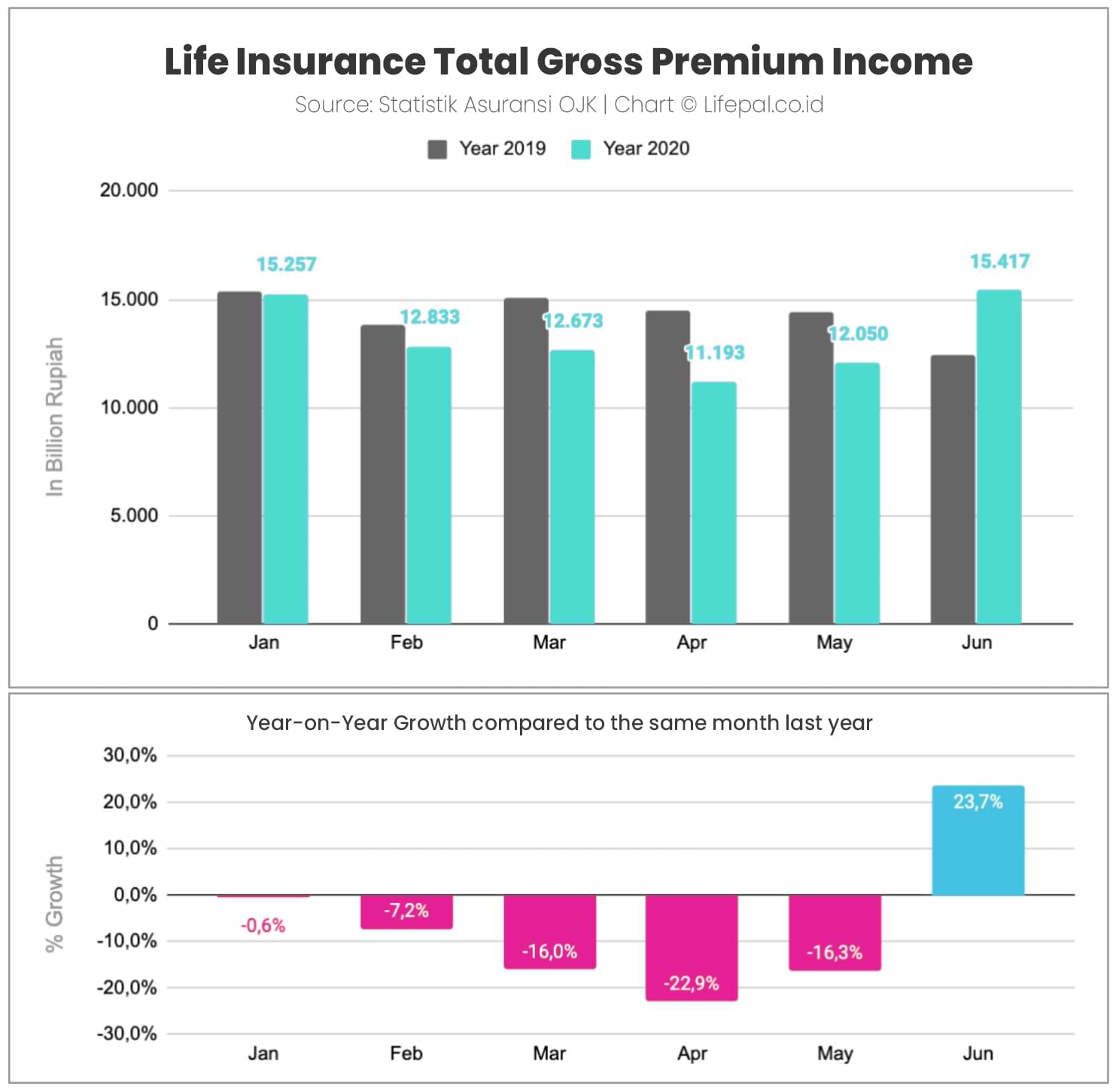 Despite growing at an exciting rate, buying insurance for Indonesian customers is not easy and transparent. Customers often have limited access to options as they need to talk to insurance agents that are not always educated about the insurance policies, not allowed to sell multiple brands, and do not help customers after-sales.
In some cases, traditional agents have created mistrust and are no longer capable of helping more educated and digital consumers. The confusion for all the terminologies and bias recommendations from agents has made finding the perfect insurance policy more of luck than a carefully planned action.
Lifepal aims to solve these problems by being the trusted financial advisor thanks to technical content and policies reviews about insurance and financial planning, the possibility to find and compare from the largest selection of policies in the country and receive convenient support and assistance pre and post-purchase such as easy claim, policy management and emergency support.

As an insurance marketplace focusing on consumers, Lifepal has gained the trust of over 4 million monthly visitors, 1 million social media followers and 50 insurance brands with more than a selection of 200 products ranging from health, life, automotive, employee benefits, and other insurance products. These numbers make Lifepal the biggest insurance marketplace, in the country by size of the inventory, online visitors and registered users.
Lifepal technology is directed to use data of Lifepal's millions of visitors and understand their needs well before matching them with the most relevant insurance policy for their needs, wants, and budget.
"With our agent technology and recommendation engine, empowered by objective consultants, we hope to continue being the trusted source for those looking for insurance especially in turbulent times such as the pandemic. We see customers appreciating our services from our large social media base and sales growth that has been growing ~50% every month since the beginning of COVID, despite the 20% drop in the overall insurance industry this year," mentioned Giacomo Ficari, Co-founder and CEO of Lifepal.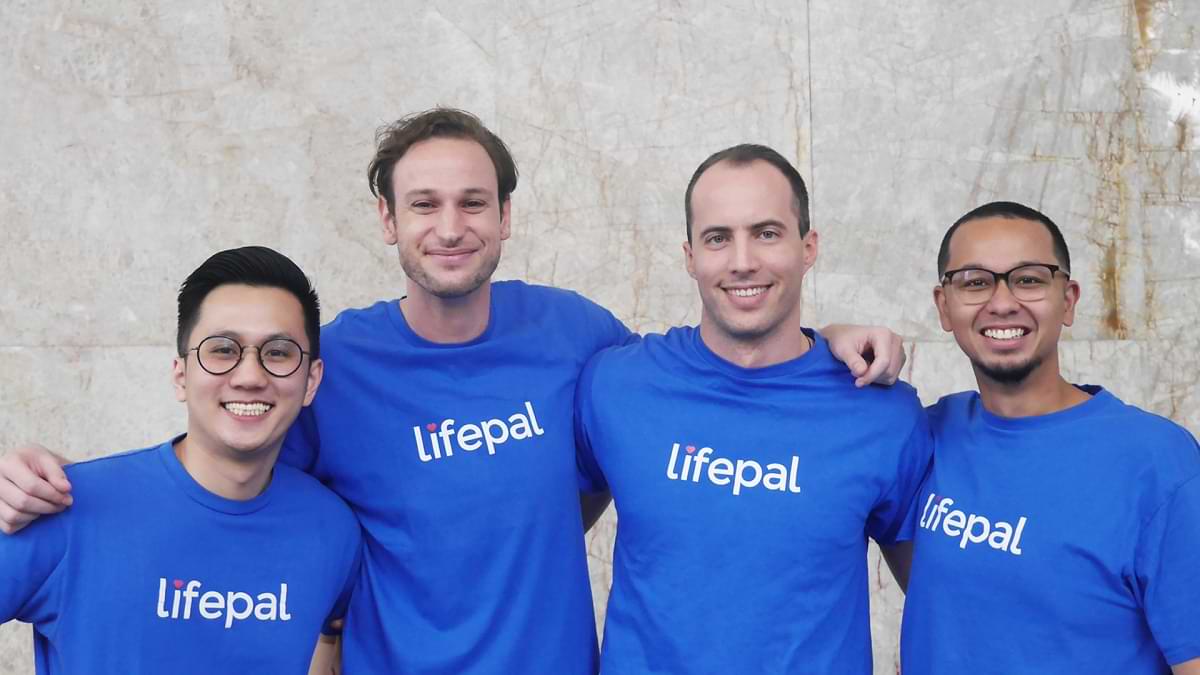 The founding team comprises executives of Lazada and Indonesian tech entrepreneurs that, after the success in building the online marketplace for consumer goods, are now focusing on building an online marketplace for insurances.
"Benny, Reza, Nico and I got together in January 2019 by common negative experiences with our insurance agents. We realized that the entire customer experience is currently broken: from selecting objectively the right coverage and using it with assistance when emergencies occur. We realized the important role that a "reliable friend" and technology can play when choosing and using the right insurance. Hence, our tagline 'Teman Andalanmu' - continued Giacomo.
Aligned with the Indonesian government's target to increase financial literacy, Lifepal routinely publishes data-based articles and social media posts, making clear topics within personal finance, financial planning, investments, business, stocks, and insurance.
The varying backgrounds in the team help them extract and articulate data in a manner that is relatable and easily understandable by the public. Lifepal hopes to help more Indonesians to have a true understanding of their own financial planning and protection.
PT. Lifepal Technologies Indonesia
Address : Jalan Benda No. 92 RT5/RW4, RT.2/RW.4, East Cilandak, Pasar Minggu, South Jakarta City, Jakarta 12560
Phone : +622131116121
---